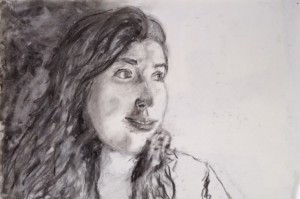 The Center for the Arts ~Lake Sunapee Region will host its "Gallery Night" event on February 5th from 5:00 to 7:00pm. The three gallery sites are located in downtown New London. They include Lake Sunapee Bank, Whipple Gallery and the New London Inn.
Lake Sunapee Bank will host David Tibbetts who lives in rural New Hampshire. Water colors are his medium and he loves to fly fish. An ardent outdoorsman, he is fascinated by   light, and how it reflects on rocks and water.
The New London Inn will host the watercolors of Linda Dessaint and the photography of Ken Schuster. Linda works with pastels and her focus is "To capture emotion through light and shadows, colors and shapes." Ken retired to New Hampshire to pursue his love of photography, after a professional career in media arts. Ken's photography will draw you into his love of the out of doors.
Whipple Gallery will host original art created by their students at Proctor Academy in Andover. Corbett and Molly Leith are both artists and teachers. Their students, Sophomores, Juniors, and Seniors will be displaying their talent. This is student art at its best.
There will be a People's Choice Award at Whipple Hall, which has been donated by the Tatewell Gallery with a chance to exhibit at their gallery. If you need more information or have a question, please check our website www.centerfortheartsnh.org or call 526-4444