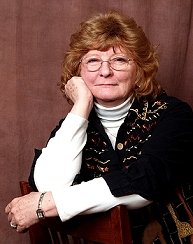 An evening with Andover's own master storyteller Lauretta Phillips will be held at 7 p.m. Wednesday, February 17, in the library of the Andover Elementary and Middle School. The program, offered by the Andover Institute, is open to the public at no charge. Refreshments will be provided.
A professional storyteller since 1987 and a founding member of several regional storytelling organizations, Phillips writes most of her own material but her repertoire also includes "folk tales, fairy tales, legends, urban tales, tall tales, small tales, cat tales, rat tales and just plain tales. " In addition to being entertained by Phillips, attendees will also learn about the art and history of storytelling, and of other opportunities to see local storytellers perform.
The Andover Elementary and Middle School is located in the center of Andover Village behind the Town Hall on Main Street.
Formed as a working group of the Andover Community Association in early 2015, the Andover Institute was so-named to recall a common title for many private educational institutions in 19th-century America — the short-lived Highland Lake Institute in East Andover, for one example.  Andover residents who have suggestions for future programs and events are urged to contact the Community Association at andovercommunity03216@gmail.com.